Kayaking in Halong Bay – Vietnam
Halong Bay was one of those places that I knew I wanted to visit in Vietnam, but I wasn't sure that I would like it. It is undoubtedly some of the most stunning scenery in the world, however a lot of people describe the area as "tourism gone bad". For this reason we decided to avoid taking a typical Halong Bay tour from Hanoi or Halong City and instead headed to Cat Ba Island, where we booked a cruise through Han La Bay and then into the more remote parts of Halong Bay. This turned out to be an excellent decision.
Cruising through the limestone karst islands and floating fishing villages of Han La Bay was amazing, and it is very quiet when it comes to tourism. We didn't see a lot of other boats, and there was none of the rubbish that I heard plagued Halong Bay.
A tiny limestone karst island in Halong Bay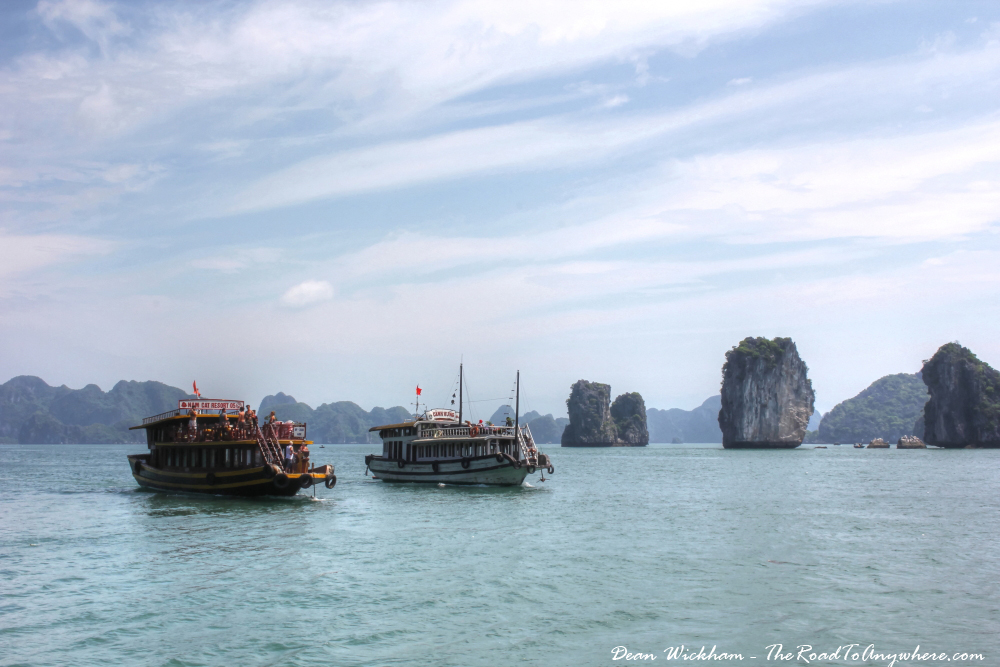 Boats cruising in Halong Bay
We started our journey into Halong Bay in the late morning, cruising through calm warm waters with limestone karsts towering above it. We dropped anchor in a calm bay where it was time to hop off the boat and into a kayak.
A boat at anchor in the sheltered bay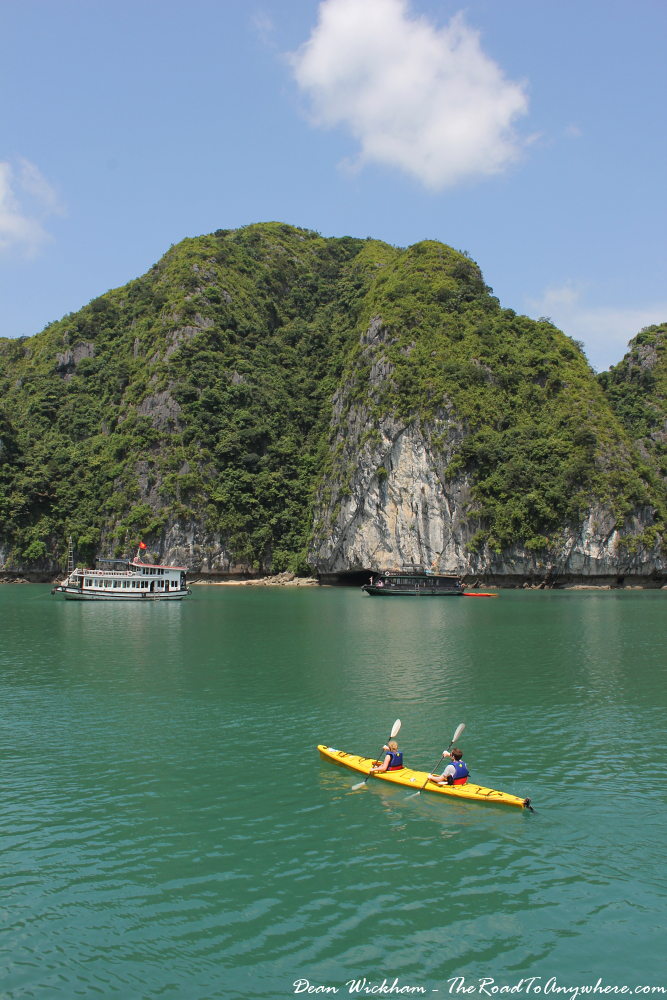 People kayaking
We paddled through the calm water towards a huge cave in one of the cliffs of an island, and when we got closer I saw that it was actually a tunnel to the other side of the karst. It was darker inside and I felt drops of cool fresh water fall down on me from the stalactites above. When we emerged back into the sunlight on the other side, I found that we were in a secluded lagoon. This tunnel is the only way in.
Exploring the lagoon, we paddled towards what seemed to be a dead end, but I could see the kayaks before me suddenly disappear. When I got closer I saw that there was another cave, this one much smaller and tighter than the last, and I couldn't see where it ended.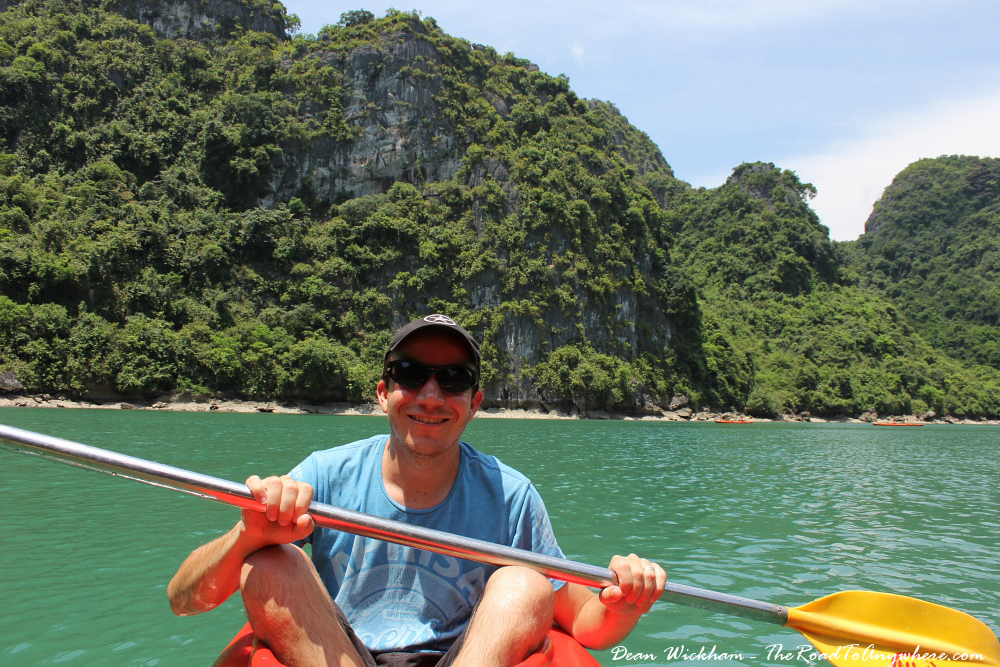 Kayaking in a secluded lagoon
The tide was rising which made the water in the tunnel rush like an underground stream, and it was difficult to avoid hitting the rocks on the side of the cave. We had to use our paddles to push off the rocks a few times but eventually found our way through the exit, where we found ourselves in yet another secluded lagoon, this one much smaller. I could almost feel the tall cliffs above closeing in on me, but it was truly beautiful.
The only way out was to go back the way we came, but paddling against the current made it a whole lot harder. By the time we reached our boat, my arms were glad to get a rest.
After having lunch with the stunning scenery around us, we continued on cruising through the beautiful bay, a maze of waterways between the tall islands.
A small fishing boat
We pulled up at one of these islands for a short hike, where we found ourselves in yet another cave which made us emerge higher up on the island. I short walk further and we had a stunning view out across the bay, along with another hidden lagoon. If it wasn't for the other tourists around, it would have seemed like an untouched paradise.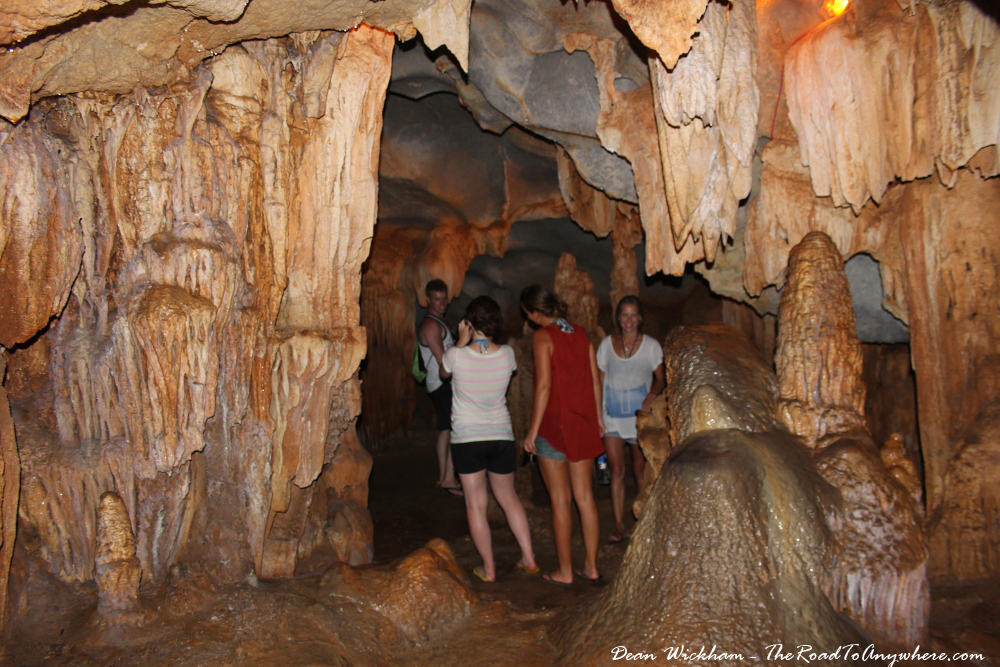 Walking through the cave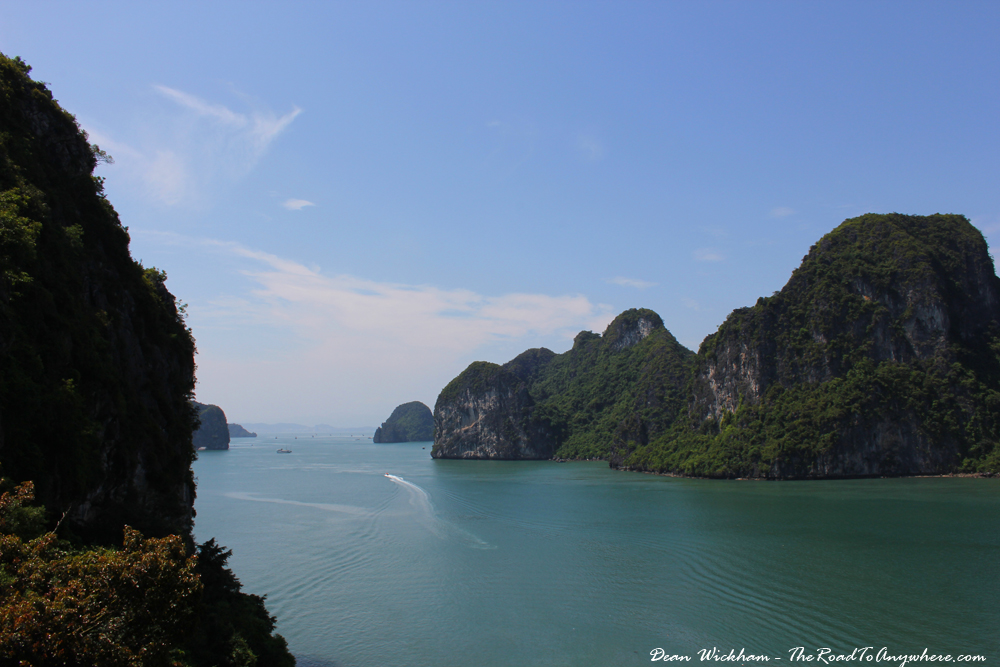 The view from the island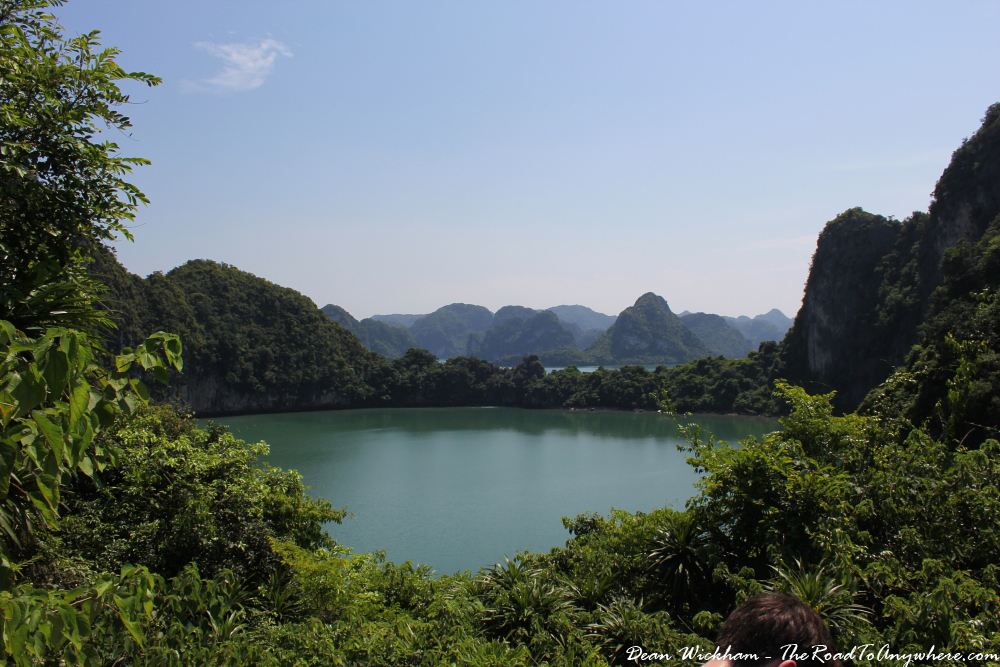 The hidden lagoon
Our cruise continued on through the bay on the way back to Han La Bay and Cat Ba Island, and on the way we stopped in another sheltered spot for a swim. It was just a matter of jumping off the boat into the lovely warm water. It was like a bath and I could have floated there for hours.
This really is just a stunning part of the world, and I am so glad that I decided to come here. Don't miss it if you travel to Vietnam.